About Endura Rubber Flooring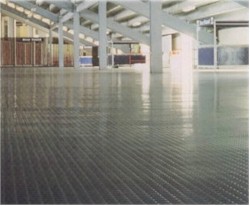 Specified since 1981 for its aesthetic appeal, no-wax maintenance, 10 year wear warranty and high slip-retardance and safety, Endura is more durable, requires less maintenance and is more slip-retardant than most other types of hard surface flooring.
Endura is installed worldwide in hundreds of stadiums and arenas, sports and entertainment facilities, schools and universities, government and military sites, as well as in healthcare, industrial, justice and correctional, museum, commercial, office, retail and transportation facilities.
Endura rubber floor tiles are available in Sculptured, Square, Round, Domino, Bison and SRT (spike and skate resistant) profiles. Endura's Standard Profile Tiles are for use in virtually any commercial interior, while Special Profile Tiles are used in heavy-duty applications.
---
---